Seth Rogen says 1993's Super Mario Bros. is one of the worst movies ever made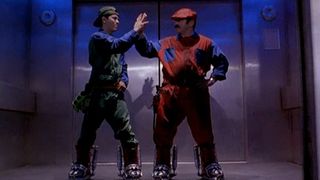 Seth Rogen, who voices Donkey Kong in The Super Mario Bros. Movie, has revealed his feelings towards the original Super Mario Bros. movie from 1993.
"When I was 11, I saw the original Mario Bros. movie and I was so excited," Rogen told Variety (opens in new tab) of the live-action adaptation, starring Bob Hoskins and John Leguizamo as Mario and Luigi respectively. "But it's one of the worst films ever made. I was so disappointed. I think it made me realize that movies could be bad. That never occurred to me until that moment."
Thankfully, Rogen believes today's audience won't have such a raw reaction to Illumination and Nintendo's animated affair, which features Chris Pratt as the plumber.
"It's nice to know that 11-year-olds out there… won't be disappointed in the same way that I was," he said.
Super Mario Bros was a critical and commercial failure, grossing only $38.9 million at the box office from a reported $42 million budget. It currently sits at 29% on review aggregator site Rotten Tomatoes.
For the present-day trip to the Mushroom Kingdom, we recently spoke to Chris Pratt and Luigi actor Charlie Day about the new movie, including how Mario creator Shigeru Miyamoto wanted Pratt as Mario, their responsibility to get The Super Mario Bros. Movie right, and why they're down for a sequel.
For more Mario-themed antics, here are our explainers on The Super Mario Bros. Movie post-credits scenes, the 85 Super Mario Bros. Movie Easter eggs, and our ranking of the best Mario games of all time.
Gaming deals, prizes and latest news
Get the best gaming deals, reviews, product advice, competitions, unmissable gaming news and more!
By submitting your information you agree to the Terms & Conditions (opens in new tab) and Privacy Policy (opens in new tab) and are aged 16 or over.
I'm the Entertainment Writer here at GamesRadar+, focusing on news, features, and interviews with some of the biggest names in film and TV. On-site, you'll find me marveling at Marvel and providing analysis and room temperature takes on the newest films, Star Wars and, of course, anime. Outside of GR, I love getting lost in a good 100-hour JRPG, Warzone, and kicking back on the (virtual) field with Football Manager. My work has also been featured in OPM, FourFourTwo, and Game Revolution.